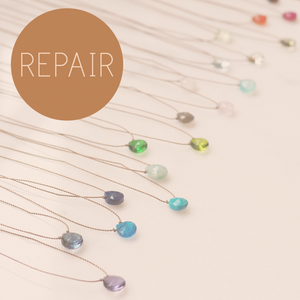 It is common to cultivate an emotional bond with your Teardrop necklace— or any piece of jewelry for that matter. When a Teardrop necklace reaches the end of its life, we like to reflect on the symbolism of the moment— perhaps it is a gentle way of the stone letting you know you've moved on from a trauma, let go of an old thought, are ready for new endeavors. However, if you want to breathe a second life into the stone, we've got you covered. Simply follow these instructions to get the repair process started.
Purchase a TEARDROP REPAIR from our shop. This covers the cost of the repair fee plus return shipping (charged at checkout) once the piece is ready to be sent back to you.
Ship your item in a protected envelope to our studio. We recommend shipping with a tracking number. Please note, we are not liable for lost packages or stones broken during transit. Be sure to include your contact information, repair request details, and return address within the package.
Britta Ambauen Jewelry
ATTN: Repairs
4456 33rd Ave W
Seattle WA 98199

Turnaround is typically 2-4 weeks from receipt of repair. We will work our magic and be in touch with tracking information when the repair is ready to ship back to you!

Bundle Discount!  If you purchase 3 or more Teardrop Repairs, a 20% off discount will be applied automatically.